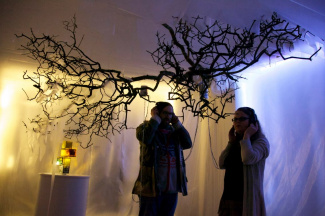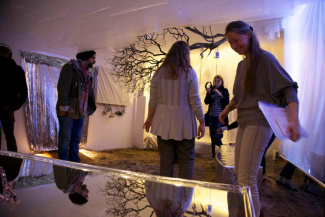 On the 6th of November 2015 the group 128byte opened its second exhibition in the gallery "Clowns und Pferde". The vernissage attracted so many art-loving visitors that a queue formed outside the gallery. At 7:30 pm the evening could really begin. After a speech by Juri and a short introduction by Bianca Wickinghoff, Dominik Jais opened the air lock and entered the extra classy class M planet with the first six visitors. Once the visitors arrived on the planet, they had 10 minutes of time to solve various riddles and to enjoy the extraordinary anmosphere and the art. The outcome of the mission was dependant from the respective crew and whether or not they were able to solve the riddles in time. More information and background stories for this unique room-in-room installation will follow.
The group 128byte are:
Lara Peters, Klaus Warzecha, Florian Patzke, Michael Knak, Siggi Dünkel, Bianca Wickinghoff, André Schiegler and Dominik Jais
The exhibition runs through to the 28th of November 2015. Whoever misses the chance to see it, should remember Holger Krüssmanns words. "only the ones who were there know what was there".
Opening times:
Tuesdays from 17 to 21 o'clock
Saturdays from 11 to 17 o'clock
Clowns & Pferde · gallery for contemporary art · Frankfurter Str 33 · 45145 Essen
(Photos by André Schiegler & Bianca Wickinghoff)